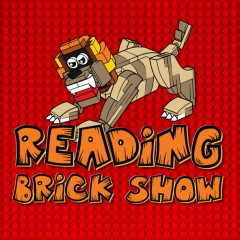 I just thought I'd post a reminder that the first Reading Brick Show is coming to Rivermead Leisure Centre in Reading on 23rd & 24th February, i.e. this coming weekend.
It will bring together fantastic LEGO models made by the most talented builders in the UK and lots of fun games and activities for visitors of all ages.
The two day LEGO show will spark imagination, promote creativity and inspire everyone who walk through the doors. The show will feature many interactive games such as their unique LEGO slot car track, LEGO Technic 4×4 course, and a 10-metre downhill Pinewood Derby track. The very popular LEGO Robot Wars arena will also make its debut in Reading at the show.
For the creative visitors there will be thousands of bricks to build with in the brick pit. For the artistic types, the large LEGO mosaic art gallery will give them the opportunity to put their ideas down in bricks.
"The wide range of expertly created LEGO models will thrill visitors. From fairgrounds, spaceships, and princesses to the mesmerising Great Ball Contraption display, there is something for everyone. You must visit the glow room and pitch-black room, both will captivate you with their beauty." – Erica Grieve, Reading Brick Show Organiser
The Reading Brick Show is proudly partnering with Fairy Bricks – an amazing charity who donate LEGO sets to sick children in hospitals all across Europe. Proceeds from the show's ticket sales will enable the organisers of the Reading Brick Show to give LEGO sets to the children in the Royal Berks Hospitals in Reading.
The event will be opened by the Mayor of Reading Cllr Debs Edwards and will bring together the local community. Unique to this show, the organisers are working with local children. The children will build some fun models from their own imaginations which will be displayed at the Brick Show. The pride in seeing their own creation at a prestigious national LEGO show may even inspire them to go on to be the next generation of engineers.
Show organiser Erica Grieve says: "We are very excited to bring a new type of LEGO show experience to the UK, but even more excited to showcase it in our home town of Reading. Some of our interactive games are unique to the Reading Brick Show – you won't have seen them at any other event in the world."
Tickets are available to buy at www.ReadingBrickShow.com. Prices start from only £9 per person which is a 10% discount on the door price.
For more information or to read the show blog, please visit www.ReadingBrickShow.com.
—
I'l be there with my "mesmerising Great Ball Contraption display" so I hope to see you there!
20 likes